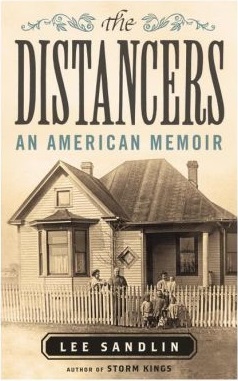 Comments about
"The Distancers"
♦♦♦
Excerpts from the kindness of strangers
"Brings 1880s Edwardswille to life. "
» Read review
— The Edwardsville Intelligencer
"Bewitching" ... "poignant""
» Read review
— Oprah's "Fall Reading"
"One of the most fascinating aspects of the book is the way in which major world events are viewed through the prism of one family's experience."
» Read review
— Gapers Block
"The Distancers is so good, so evocative, that when you finish the last page you will want to ask your mother, "What was it like for you growing up?" and to go to your grandmother's house to search for browned and wrinkled photos inside a dusty, beat-up chest."
» Read review
— Everyday Ebook
"Mr. Sandlin fashions something beautiful from singularly unpromising material."
» Read review
— Wall Street Journal (requires registration)
"The characters are indelible, the tale poignantly revealing as to what it means to be American, and the ending as powerful as it is displacing. That should give you an idea of just how good Lee Sandlin is. He might just be the best author you've never read, if you haven't."
» Read review
— Charlotte Post and Courier
"Their lives were no one's business, certainly not his. They lived to be unknowable, as if perhaps they had so little self-regard they felt there was too little of themselves to share. ... "
» Read review
— Michael Miner in the Bleader
"In The Distancers, the past is another Illinois countryside Lee Sandlin's latest is an austerely beautiful remembrance of his southern Illinois family. ... By the end of the book Sandlin seems to be tallying secrets and little tragedies; he's perhaps the first person to ever give them voice."
» Read review
— Chicago Reader
"Sandlin's plain but eloquent prose suits these people. The story unfolds slowly and doesn't take unexpected turns, but instead is a portrait of a time when people did the most with what they had, and like Chekhov's characters, they endured. "
» Read review
— Chicago Tribune
"with a historian's care, he researched their very ordinary lives — and came away with what he thought was a quiet and very personal memoir. Then strangers read the book — and reacted with passionate enthusiasm, arguing with him, thanking him, claiming his history was theirs, too..."
» Read interview
— St. Louis Magazine (interview)
"A perfect piece of Americana. The story of the Sehnerts and their descendants truly is an American saga."
» Read review
— The Maine Edge
"A Midwestern journalist shakes his family tree and discovers a crop of distinctly American characters. ... In a synthesis of family lore and popular culture, Sandlin expands his genealogy of a conventional family into something considerably more." » Read review
— Kirkus
---
Purchase: It is alway nice to shop locally, and support your independent bookstore. You can also order online, or get the e-book.
Amazon | Barnes & Noble | Indiebound | Books A Million | Powell's | Random House