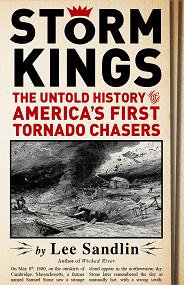 Comments about
"Storm Kings"
♦♦♦
Excerpts from the kindness of strangers
"May become a bible of sorts to a generation of tornado aficionados, storm chasers and Weather Channel addicts."
— Chicago Tribune
"Even readers who live far from Tornado Alley will appreciate Mr. Sandlin's amiable style, his wide-ranging, infectious curiosity and the light he sheds on these most American of all storms." » Read review
— The Wall Street Journal.
"The lesson is as clear as one of those still spring mornings when the air is charged with humidity, and as menacing: When science and politics mix it up, invariably the loser is science. And the rest of us." » Read review
— Dallas Morning News
"The awe and terror that American weather inspired in early settlers is one of the most compelling motifs of Lee Sandlin's compulsively readable Storm Kings." » Read review
— Christian Science Monitor
""A fascinating look at all things tornado. ... Sandlin delves into intense detail giving us wonderful accounts of the history of the National Weather Service, the 18th and early 19th century scientists." » Read review
— Northwest Indiana Times
"Using his skills as a brilliant storyteller, Lee Sandlin places the reader in the middle of a storm, where he becomes an eyewitness to the helplessness, fear, destruction, and psychological aftermath of tornados." » Read review
— New York Journal of Books.
"To read of them is harrowing: entire towns destroyed, bridges torn apart and raised into the sky, wakes of destruction hundreds of yards wide and hundreds of miles long. The real stars of the book are the storms themselves. " » Read review
— Chicago Reader.
"Mr. Sandlin knows how to tell a story, and his gripping narrative, often lyrical and often horrifying, conveys the awesome destructive power of tornadoes as well as their bewildering randomness."
— Kirkus.
"Thrilling ... Sandlin's triumph is turning a historical survey of generations of American tornado scholars, victims and obsessives into something that reads like a brisk novel. It offers an epic scope reminiscent of Gabriel García Márquez; vivid, eccentric characters that could inhabit a Jonathan Lethem book; rivalries as intense as anything in Dostoevsky or Archie comics; and wonders as grand as any described by L. Frank Baum (but with better tornado descriptions)." » Read review
— Chicago Tribune.
"tells the story of our heritage as storm chasers ... of people in the past few centuries who were so fascinated when they looked up at the sky that they had to have more. ... I can't recommend Storm Kings enough to all my chaser friends." » Read review
— Tornado Titans.
"If the vast majority of climate scientists are right, the weather is going to become an increasingly important, and threatening, feature of our daily lives. Lee Sandlin's new book is a riveting history of our relationship with the funnel clouds of the Midwest. This is a story we need to know, and Sandlin tells it with uncommon grace and style.
— Joseph J. Ellis, Pulitzer Prize-winning author of Founding Brothers.
---
Purchase: It is alway nice to shop locally, and support your independent bookstore. You can also order online, or get the e-book.
Amazon | Barnes & Noble | Indiebound | Books A Million | Powell's | Random House